Did you know that Davies Molding has rubber grommets? We do! If you haven't been introduced to this line, we would like to take a moment to formally introduce you to our thermoset rubber grommets!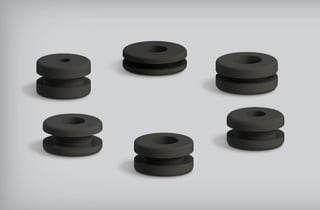 Some of their great features include:
Protection for wires and cables against abrasion damage from sharp panel edges.
Multiple combinations of panel cut holes and panel thickness.
Electrical insulation and mechanical damping.
Durable and flexible Thermoset rubber, used for its resistance to oils, fuels, and other chemicals.
Better cut and tear resistance compared to thermoplastic rubber grommets.
Added aesthetic value to your application.
Circular shape for ease of handling and installation. No tools necessary!
To view full product offerings, click here or contact our inside sales team at info@daviesmolding.com for more information.