Our most popular handle, the Two-Shot Pull Handle, is now available in even more center-to-center dimensions! Molded with a glass reinforced Nylon substrate and an overmold Thermoplastic Elastomer rubber (TPE), these are sure to provide extra comfort and style.
Other great features include: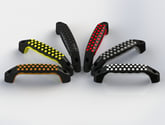 Wide range of colors and center-to-center dimensions.
¼" thru-holes with recess top for mounting hardware.
Non-slip comfortable grip that is durable and resistant to scratches.
RoHS and REACH Compliance.
View our full product listing here, or contact our inside sales team at info@daviesmolding.com for more information.