How does 3-D printing technology affect an 80 year old plastic knob and custom plastic parts manufacturer? That was one of the questions that was asked to Derran Smith, President of Davies Molding, in a recent interview on CEO Intronet.
"The advancements in 3-D printing is growing everyday," said Derran in the interview. "It can help our customers build and tweak a finished product to the exact point where they know it is going to work before we invest in cutting significant tools steel, which saves everyone time and money."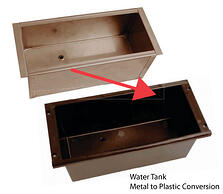 3-D printing prototypes are often very helpful when converting a metal part to plastic. Plastic parts are dent-resistant and lighter, and utilizing 3-D printing to prepare the prototypes allows the conversion process to move faster. Davies Molding has manufactured several metal to plastic conversion parts for the food service, commercial HVAC, and automotive industries. Details of these projects can be found in our custom molding portfolio.
Want to learn more about metal to plastic conversions? Download our free ebook "The metal to plastic conversion guide to reducing costs".
View Derran Smith's complete interview below or click here.