Davies Molding is proud to be able to celebrate Manufacturing Day and continue the long tradition of US based manufacturing excellence. Manufacturing day is held the first Friday in October. Manufacturing Day gives us, manufacturers, at Davies, the perfect chance to shine a spotlight on our manufacturing expertise and the incredible skills of our workforce. It's all about inspiring the next generation of skilled workers. We open our doors to showcase the potential of modern manufacturing and foster interest in manufacturing careers.
Why is there a manufacturing day?
Across the country, organizations showed the public what manufacturing really looks like through more than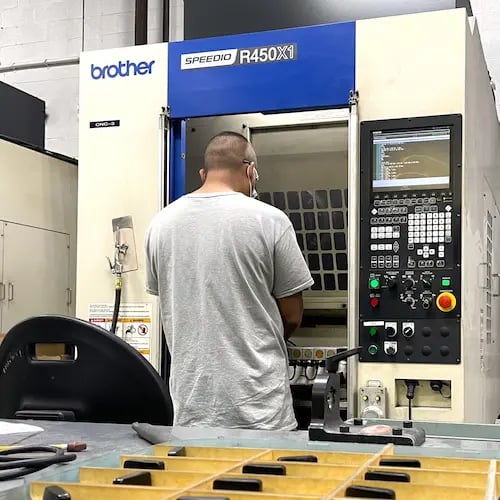 2,600 open houses and other events in each of the 50 states along with Puerto Rico, according to nist.gov. The hosted events had an estimated 400,000+ students, parents, and community members attending. This community outreach is important as, according to the National Association of Manufacturers, manufacturing accounts for 10.94% of the total output in the states and employs nearly 9% of the workforce. The total manufacturing output for 2019 was $2,345.85 billion which is an increase of $600 billion since 2010. In addition, there was an average of 12,182,000 manufacturing employees in the United States in 2020, according to the National Association of Manufacturers. There continues to be strong demand for local talent to join the manufacturing industry. In fact, according to a study by Deloitte, as many as 2.1 million manufacturing jobs could go unfilled by 2030 due to lack of qualified applicants. During the pandemic-challenged year of 2020, the manufacturing industry lost 578k jobs and at any given point in the last 6 months, nearly 500k jobs have remained open. This is an ideal time to get involved as manufacturing continues to grow and the talent pool is low.
Why does Davies participate in manufacturing day?
With a rich history spanning nine decades, Davies has proudly participated in every National Manufacturing Day thus far, and we are firmly committed to remaining an integral part of this celebration for all the forthcoming Manufacturing Days to come. The plastics and rubber products industry is one of the top 10 manufacturing sectors in the US. Davies Molding stands as a premier player in the plastic products industry, consistently ranking among the biggest and best composite and plastic manufacturers. With this position in the market, there is continuous high demand for our top-notch products leading to a high demand for quality employees to make these components. We recognize how important local talent is to our success as a company and the immense value they bring to Davies Molding. We will continue to support local recruiting events, like manufacturing day to find the best talent available for the future growth of Davies Molding.
Davies will be steadfast in our dedication to serve our customers and provide our local community employment opportunities at our world class Injection and Compression Molding facility. Visit our new website to learn about our famous knobs and plastic products that we manufacturer every day. If you are a local school or other training facility and would like to schedule a visit to teach your students about manufacturing of plastic and composite components, contact us at (800) 554-9208 and we can schedule a visit. We believe that the future of Davies Molding depends on the youth of today.